My Story...
"This is where Joanne resides, in the connective tissue of all that exists." Sky Power, USA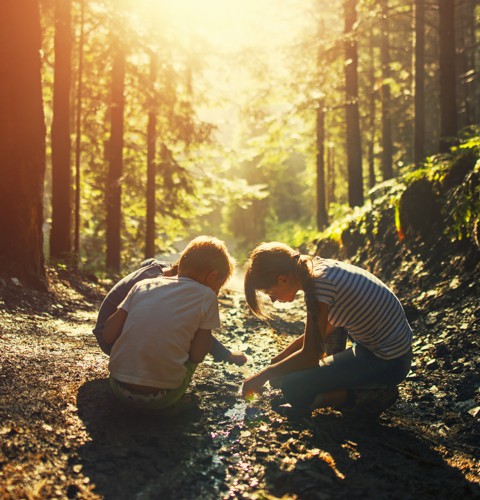 How it began. When I was a girl old enough to walk to school on my own we lived in a house with a beautiful giant weeping willow tree living in our backyard. I could not have articulated then what I can now, that she became my sanctuary, my mother tree. She had a shimmer about her and she loved me as I loved her. When a storm rumbled through my parents' world, it was willow tree I went to for comfort and security... she anchored me.
On hot, humid summer days when the heat was too much, my brother and I would wander down the road to the creek to cool off and explore the world of craw fish and water spiders. If I close my eyes now I can still feel the cool air and mottled sunlight dancing across my face through the canopy of my towering friends, Beech and Elm tree, those gentle giants, guardians of all who sheltered there. On those days I would seamlessly merge with the elements of water, air, earth and sky and everything green in between.
It was on one such day that I had my first beckoning. A seemingly subtle exchange that carried the weight of existence within it.
As if called by a name I did not realize was mine, I turned towards the untamed landscape beyond the creek where I had never been before. I was greeted by a distinct intelligence there, a presence of the woods. It was both familiar and unfamiliar and something else... It stirred something deeply human and perennial in me; at eleven years old I was meeting myself for the first time. I do not know how long I stayed that way before I ran off to play and explore the mysteries of the creek that day.
By the time we moved from that house my instinctual self and intimacy with nature was growing. I did not have a language for it then; no one spoke about this kind of relationship in my family or beyond, so neither did I. My only teachers were the plants, trees and animals...and something else in between.
---
BIO
Joanne Marks BFRP, CH, SW has an Integrative Counselling, Soul Work and Mentoring Practice. She is a seasoned Bach Flower Practitioner and Teacher with training in Core Shamanism and working with the subtle energy systems of the body and nature. As a Herbalist Joanne is founder and formulator of Fireweed Botanicals.